Acer Travelmate 2451WLCi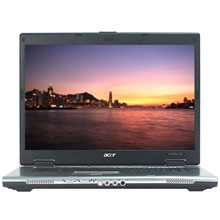 Mobility
Thin and compact, the Acer TravelMate 2441WXCi is easy to bring out and about. 802.11b/g wireless network solutions allows you to get connected anywhere you may need to go.

Performance
Featuring an Intel Celeron M 1.46 GHz and 1 GB of RAM, the 2441WXCi can muscle its way through any program.

Value
Powerful processor, ample RAM, WXGA 14.1" screen, and a CD-RW / DVD-ROM combo optical drive combine to create an extraordinary system at a value price.
Processor
Processor Type
Intel Celeron M 410 1.46 GHz
Data Bus Speed
533 MHz
Cache Memory
Type
L2 cache
Installed Size
1 MB
RAM
Installed Size
256 MB (256 MB x 1) / 2 GB (max)
Technology
DDR II SDRAM - 533 MHz
Memory Speed
PC2-4200
Storage
Hard Drive
40 GB
Optical Storage
Type
CD-RW / DVD-ROM combo, integrated
Display
Type
15" TFT active matrix
Graphics Processor / Vendor
ATI Radeon Xpress 200M
Video Memory
Shared video memory (UMA)
Max. Resolution
1024 x 768 ( XGA )
Audio
Type
Sound Card
Networking
Networking
Network Adapter
Data Link Protocol
Ethernet, Fast Ethernet, Gigabit Ethernet
Expansion
Expansion
2 ( 1 ) x memory
1 ( 1 ) x PC Card - type II
Miscellaneous
Features
Locking device keyhole, administrator password, system password, Disk Anti-Shock Protection System (DASP), wake on LAN
Chipset Type
ATI Radeon Xpress 200M
Input Devices
Keyboard, touchpad, 4-way scroll button
Operating System
Operating System
Microsoft Windows XP Home Edition
Software Included
Software Included
Adobe Acrobat Reader, Acer Launch Manager, Norton AntiVirus (OEM), NTI CD-Maker (OEM), CyberLink PowerDVD (OEM), Acer GridVista, Acer Empowering Technology
Battery
Technology
4-cell lithium ion
Adapter
AC 120/230 V ( 50/60 Hz )
Average Run Time
1.5 hour(s)
Installed Qty
1
Dimensions (W x D x H)
Unit
14.1 x 10.6 x 1.1
Weight
Unit
6.2 lbs
Warranty
Warranty
1 Year Limited Warranty
Last 50 ratings
date

| | |
| --- | --- |
| Notebook computers {113.193.7.xxx} | 2010-06-25 |

Actually this computer is best as compare to price and feature. Refer http://www.onlinenotebook,com to get more knowledge .

| | |
| --- | --- |
| trisma {110.137.67.xxx} | 2010-06-01 |

can i get it for free??

| | |
| --- | --- |
| yasin {117.241.232.xxx} | 2009-12-24 |

t4r rertuty ghfdyyctghjktyc ghcdhhuiftr6

| | |
| --- | --- |
| hendra suwandi {125.162.42.xxx} | 2009-06-16 |

is the notebook is good, because i am not laptop

| | |
| --- | --- |
| Maha {77.31.134.xxx} | 2008-12-16 |

thats nice

| | |
| --- | --- |
| santosh kumar {59.180.34.xxx} | 2008-12-08 |

What Is Rate Of This Laptop Sksoni_04@yahoo.com Good Look

| | |
| --- | --- |
| subal chandra {59.91.186.xxx} | 2008-11-17 |

what is rate of this laptop

| | |
| --- | --- |
| SRI {122.164.28.xxx} | 2008-05-29 |

VERY BAD

| | |
| --- | --- |
| jeffrey {169.133.253.xxx} | 2008-05-27 |

gggggggggggggg

| | |
| --- | --- |
| gemey {62.139.88.xxx} | 2008-05-17 |

nice laptop in working

| | |
| --- | --- |
| renae {12.207.81.xxx} | 2008-03-21 |

nice computer.

| | |
| --- | --- |
| vxcv {202.70.113.xxx} | 2008-03-13 |

vsdfgdfgd

| | |
| --- | --- |
| bayu {124.81.92.xxx} | 2008-03-07 |

good in performance

| | |
| --- | --- |
| ajit {59.94.12.xxx} | 2008-03-05 |

goood

| | |
| --- | --- |
| KIRNO {222.124.24.xxx} | 2008-02-10 |

I THINK ITS BETTER, AND CHEAP ENOUGH

| | |
| --- | --- |
| seth {71.76.44.xxx} | 2007-12-29 |

This is the best laptop ever

| | |
| --- | --- |
| tariq {220.226.36.xxx} | 2007-11-15 |

must show rate

| | |
| --- | --- |
| iphan {82.12.222.xxx} | 2007-11-08 |

look great

| | |
| --- | --- |
| abubakrghari {80.191.251.xxx} | 2007-06-30 |

w

| | |
| --- | --- |
| cortney {72.177.75.xxx} | 2007-06-10 |

i think travelmate will rock!!!!!!!!!!!!!!!!

| | |
| --- | --- |
| toviq {202.150.128.xxx} | 2007-06-06 |

wow bagus bgtnya deng ftur2nya itu tapi sayang aq gak kan pernah bisa untk memilikinya

| | |
| --- | --- |
| Lanny Palma {203.87.187.xxx} | 2007-05-10 |

I love this computer

| | |
| --- | --- |
| shuhaib {61.1.244.xxx} | 2007-04-11 |

chcvhcvhvcv

| | |
| --- | --- |
| Amanda {72.208.154.xxx} | 2007-02-22 |

I've had this laptop for 4 months now and I love it.

| | |
| --- | --- |
| S. Gardner {66.52.142.xxx} | 2007-02-12 |

This computer is a very good value and really does the job, it is worth buying :-}