| | |
| --- | --- |
| PQI showed Air Card memory card with Wireless Data Transmission | |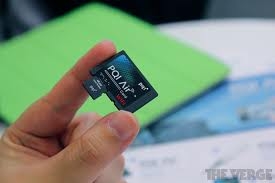 During the Computex 2012 the company has demonstrated its own PQI Memory Card, which allows wireless data transfer. This decision has been called Air Card.
The device is a memory card format SD. After it is installed in the digital camera or
camcorder, and power-Air Card will automatically create a dedicated access point Wi-Fi 802.11b/g/n. Next to this access point can connect wirelessly to the tablet, smartphone or computer. To connect, you can use a special application, as well as the usual web interface. When the connection is created on the memory card files (pictures and videos) are immediately available and the other connected device. Also in the memory card PQI Air Card implemented slot for memory cards format microSD that allows the replacement of the data warehouse.
According to available information, using a memory card as an access point leads to increased energy consumption chamber to which it is connected. In some cases battery life can be reduced even in a two-fold. However, in cases where the wireless data transmission is not necessary, it can be deactivated manually.
PQI Company intends to begin mass production of memory cards Air Card in the next month, but the level of their prices and terms of early sales have not been disclosed.
Only registered users can comment.