| | |
| --- | --- |
| Intel showed a Compact Computer System, Next Unit of Computing | |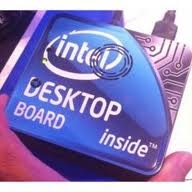 Intel has used the Computex show in Taipei in 2012 to showcase the new computer system for small form-factor, which was previously codenamed Next Unit of Computing.
This computer system has a size of 4x4 inches (10,2 x10, 2 cm). The information
contained in it on the motherboard is slightly greater than the size of a smartphone. The motherboard is based on chipset Intel HM65. The device carries a mobile processor Intel Core i3, 4 GB RAM, SSD 40 GB mSATA. Also available are three port USB 2.0, wireless modules Wi-Fi and Bluetooth, two video output HDMI. The approximate cost of a computer system Next Unit of Computing is declared at $400 (about 3200 USD). It should come on the market in the third quarter of this year. The device can be used to perform various tasks. It will cover both system integrators and retailers. In this retail edition provides a fully finished systems, barebone-system and some motherboards. The presence of SO-DIMM ports and mini PCIe motherboard will allow more flexibility to configure the system to the needs of the end user.
It also reported that in the fourth quarter of this year the market will do an updated version of a computer system Next Unit of Computing. It will be based on the 7-series chipset, will support USB 3.0 and Thunderbolt. The platform is being developed for use with processors having the power dissipation index 17 Tues This will help to set it economical Core i5 and Core i7. Currently, Intel is finalizing the case and cooling system. Therefore, in order to improve these components, it is actively working with manufacturers of computer cases. Access is currently a demonstration system based on the CPU Core i5 family of Ivy Bridge, when you run the test, Cinebench CPU temperature kept at 79 degrees Celsius. The frequency of the processor was the maximum for the mode Turbo Boost 2.7 GHz. The estimated cost of the computer system Next Unit of Computing, based on the 7 Series chipset and processors, Intel Core i5 and Core i7, is not reported.
Only registered users can comment.