| | |
| --- | --- |
| Duracell Powermat Announced Products for Wireless Charging Smartphones 24-Hour Power System | |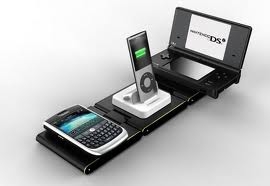 The company announced the release of Duracell Powermat series of products 24 Hour Power System for the wireless charging device.
Line 24 Hour Power System consists of three Devices. One of the Novelties is called Powermat, a Power Wireless
transmitter. This device Plugs into Electrical Outlet and is used for charging wireless mobile smartphones and other devices. For the implementation of the charge, it is enough to place the mobile device in the appropriate cover on the surface of Powermat.
This case, which is the second product in the line of 24 Hour Power System, is used to obtain the energy transmitted by wireless, and battery charging device. This case also serves as a decorative and protective function. Covers will be available on the market in different colors. The third device in the product line is a Compact, Portable battery — Portable Battery Backup. The user can carry it with him, and if necessary, when the battery of the smartphone is discharged, it connects to your phone transfer to the charge the battery device. Portable Backup Battery contains a microUSB connector and Apple, which makes a versatile IT solution. To recharge the battery Portable Battery Backup Unit is enough to place on the surface of Powermat.
In addition, note that in the wireless transmission of energy Duracell Powermat 24 Hour Power System implemented an Intelligent Control Mechanism that determines the amount required for charging the battery Power and stops the transfer of power after the full charge. Thus the energy loss can be avoided.
According to available information, product line Duracell Powermat 24 Hour Power System is now on Sale in New York. The initial device models are focused on the Joint Application only with smartphones and the Apple iPhone 4 iPhone 4S. Models will begin in the autumn, and for other popular smartphones available in the market. By the time the sale of devices will become more global in nature.
In addition, Duracell Powermat announced that it will have the users to use option of Wireless Charging battery system in many smartphones at public places. The list of partners that offer such a possibility is constantly expanding.
Only registered users can comment.